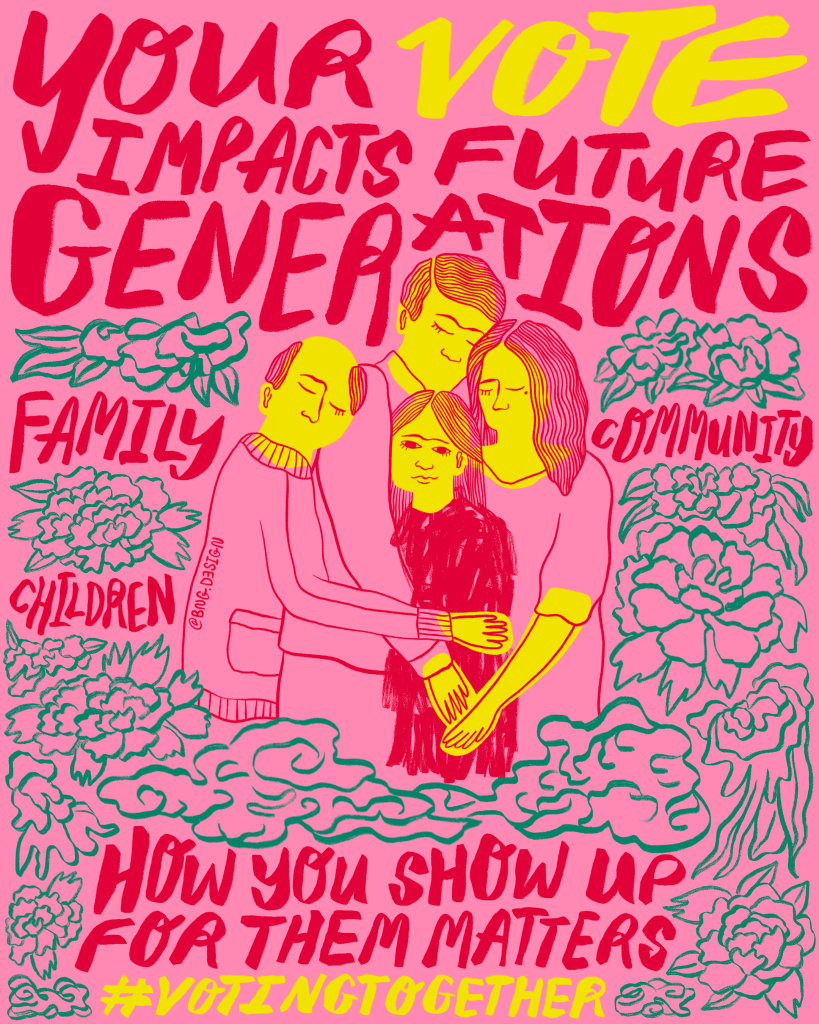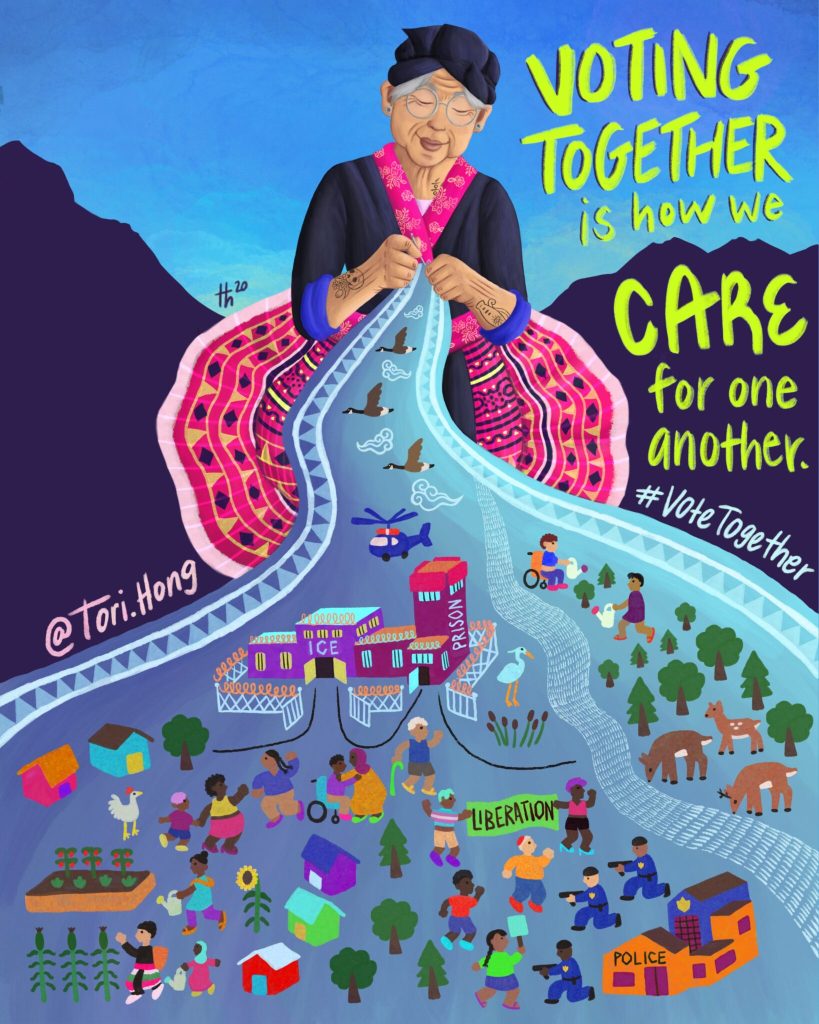 Click here to view past projects!
2023-2024 Creative Catalyst Fellowship
This fellowship will provide opportunities for independent artists to engage the public in critical issues impacting Asian American and Pacific Islanders (AAPIs) across the country. We will consider a variety of art forms, such as music, video, visual arts, performing arts, poetry, and more.
We will be funding fellowships of $30,000 each to hire five fellows to produce work with the potential to break through mainstream media and catalyze conversations around themes of Solidarity, Belonging, and Voting Together.
Our Themes
Belonging:
Belonging is about a sense of home, being seen, and the mere but essential right to exist. Belonging is a counterweight to hate and violence and can advance a vision for the profound inclusion of communities.
Solidarity:
Our fates are linked; when we support the Black struggle for liberation, we are supporting our collective liberation. We seek a re-envisioning of solidarity that simultaneously recognizes the AAPI experience with racism and oppression and how AAPIs have benefited from anti-Blackness. This theme is inspired by the importance of disrupting stereotypic tropes that limit and/or undermine authentic solidarity and offering an alternative vision.
Voting Together:
We lead by caring about each other. This theme is inspired by the importance of advocacy, voting, and becoming engaged in the issues that impact the lives of AAPIs and are of particular importance in the 2024 election. How will your vote show how you are caring for your community?
Additional Offerings
We will coordinate publicity and promote the distribution of final projects in furtherance of our charitable purpose. This toolbox is subject to availability and relevance and may include:
An accomplished communications consultant to assist in creating local and national earned media stories about the work in connection with the work of the AAPI Fund
Digital advertising to help promote the final products and the AAPI Fund
Introductions to AAPI organizations that may want to use the work for charitable purposes
Support with placement in galleries, shows, or other venues, with a priority on venues with experience in presenting art with a social justice theme to promote the work of the AAPI Fund
Development and distribution of replicas of the final products (e.g. posters, calendars, stickers, etc.) to promote the work of the AAPI Fund
Criteria
Individuals exhibit a high level of skill and produces art that resonates
Has the potential to reach an audience measured in the thousands
Has the potential to reach beyond the choir of both traditional activists and art enthusiasts
Clearly fits one of the three themes of Solidarity, Belonging, or Voting Together
Can be accomplished within the proposed budget and timeline
Timeline
All dates subject to change.
August 28 and 29, 2023 (1:00 – 2:00 pm HT / 4:00 – 5:00 pm PT / 6:00-7:00 pm CT / 7:00 – 8:00 pm ET): Creative Catalyst Webinar
September 12, 2023 (5:00 pm HT / 8:00 pm PT / 10:00 pm CT / 11:00 pm ET): Applications due
Late September, 2023: 5 fellows selected
October 1, 2023-March 15, 2024: Phase 1 – Production of artwork
March 15, 2024: Artwork completed
March 16-November, 2024: Phase 2 – Publicity, promotion, distribution
July 15, 2024: Narrative Report due
Additionally, fellows will be expected to attend the AAPI Fund's 2024 annual grantee gathering (date and location TBD) and attend 1-2 virtual presentations, as requested.
We are no longer accepting applications.
See our frequently asked questions here. For any other inquiries, reach out to [email protected].